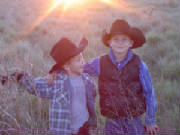 "The Lord is my light and my salvation - whom shall I fear? The Lord is the stronghold of my life - of whom shall I be afraid? When evil men advance against me to devour my flesh, when my enemies and my foes attack me, they will stumble and fall. Though an army besiege me, my heart will not fear; though war break out against me, even then will I be confident." -- Psalm 27: 1-3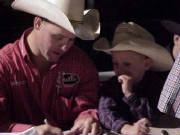 **NEW UPDATES**
2/6/06 - Update on Mark's surgery: His rotator cuff surgery is healing slowly (WAY too slowly for him!). Tandy told him not to expect full use of it for at least 6 months - 3 1/2 more to go. The recoop time for this surgery was far worse than even his pelvis break. He has had a really hard time with pain, trying to sleep, and being uncomfortable a majority of the time. He explains it as a toothache that just won't go away. At any rate, he's working with Stace Smith producing rodeos, and is very grateful for that opportunity. He's also riding saddled horses (even though he's not supposed to be) and staying extremely busy holding our own ranch together. Life is in a transition phase right now, but it's all good!
2005 REVIEW
1/25/05 - Happy 2005! Mark is back out on the rodeo road again, but we sure did enjoy having him home with us over the past couple of months. We had a wonderful, quiet Christmas here in Kansas, and then had an absolute BLAST on our 2nd annual ski trip to Loveland. Seeing the boys FLY down those runs is just incredible. We are truly blessed!
Mark has been to a few rodeos already this year. They've been pretty small so far, but he is riding very well and is feeling pretty good for being off so long. He's won 3 of the 4 rodeos he's entered thusfar, and is working for Stace Smith's rodeo company as well. He's really had a lot of doors open to him over the past year ,and we are so thankful that he will have some great opportunities available when he does decide to stop riding.
This week Mark is headed to AZ to show some of our horses to potential buyers, and to also rope there during the weekend. Roping is something that he would really like to do more of, and he hopes to have that opportunity this year.
As for his rodeo plan this year, I think he's going to go about it just like he did last year. He's needing to draw some good horses at the tour rodeos this time around, though. We'll just have to wait and see . . .
2/9/05 - Things have been going well with Mark just "plucking" along! He's been entering smaller rodeos & having a lot of success at them. He's entered in Jackson, MS, this weekend -- it's a big rodeo -- and we're anticipating "BIG" things!
3/8/05 - Mark ended up placing 2nd in Jackson which moved him up in the standings. His first horse in Houston, however, didn't go quite so well. He drew a strong horse that ducked and dove, eventually bucking him off before the end of the ride. He told me that "the ground in Houston is really, really hard", and several days later, he is still sore. He has his second horse in Houston on Wed. (if he's a good one), and then he will head to Montgomery, AL on Thursday.
Conor had a tonsillectomy/adenoidectomy last Thursday, and he is still really sore. He missed the several days of REALLY warm weather we had here, and was bummed out that he couldn't ride or rope. Colton, on the other hand, is loping/running his pony like a little maniac! We're looking so forward to spring/summer so that we can all get outside and exercise the horses again on a regular basis.
3/14/05 - Mark turned out his second horse at Houston, but got on in Montgomery and won 2nd with an 85. He should be pretty close to the top 15 now. He's headed back to Houston ( he thinks) for his third horse, and then on to Goliad, TX over the weekend. He'll be home just in time for the boys' spring break, and we're hoping to spend a lot of good ole family time!
4/29/05 - Well, there hasn't been a lot of riding going on, but there has been a lot of working! He's in Lufkin, TX, right now where he was 85 points on his bareback horse. He's winning the rodeo for now, with 2 days to go. He's also contemplating try to make the NFR this year, but he hasn't set that decision in stone yet. His schedule will get much busier from this point forward, so we'll see how his health and his body hold out. The boys will be starting baseball and golf, so we'll see how long he can handle being away from all of our daily activity. That's the hardest part of his rodeo job and it's the toughest part for all of us in this world. Keep him in your prayers as he sets out on whatever journey God has in store for him.
6/9/05 - Mark won Strong City, KS, after 3 different horses, a mild concussion, a broken thumb, and mud from one end to the other, was 2nd at Silver City, NM, and placed in Ft. Smith, AR. He's moved up to 21st after those three wins. Right now he's on his way to Bellevue, IA, where he rides tomorrow, and then Garden City, KS, on Saturday. He's headed to AZ next week for an invitational roping and then will head out for his BIG 4th of July run shortly after. He's hoping for a good 4th this year so that he'll be in the running for the NFR again. If that doesn't happen (sometimes that's how it goes) he'll reevaluate how hard he's willing to rodeo in order to shoot for the Finals.
7/20/05 - Mark had a really good 4th of July run that moved him really close to the Top 15! Things were rolling right along until he suffered an injury last week -- he was kicked in the temple when he got off his horse, was knocked out for 3 minutes, had memory loss, and spent a good deal of time in the ER. He's recovered from the injury and rode his first horse back lastnight (he waited 5 days, not the 10 that the doctor's had told him to). The horse wasn't that great, but he said that he felt good and didn't have any headaches or dizziness. He rides at Ogden, UT tonight, then Salt Lake City on Thursday, Spanish Fork, UT, on Friday, Salinas, CA on Sat., Nampa, ID, Saturday night, Salinas, CA, on Sunday (short round), Salt Lake City (short round) on Monday, Cheyenne, WY, Monday and Tuesday, or Tuesday and Wednesday (depending on if he makes the short round in Salt Lake or not), Deadwood, SD, on Thursday, and then Monte Vista, CO, Friday - Sunday. Just a short little run this time <smile>! He's got some really good horses drawn this week, so it could really launch him up there in the standings should all go as we're hoping it should. Please remember him in your prayers -- it's a lot of horses to get on for an "old guy!"
8/26/05 - I guess I should really label this tab "Monthly Updates" . . . sorry. Mark has had a great month! The boys and I got to go watch him ride in the short round at Cheyenne. He ended up winning about $10,000 there, and the trip was fun for all of us. We also met him in Lawton, OK, and watched him make a really good ride. He placed 2/3 there. He's on his way to Missouri tonight, San Juan Capistrano (CA) tomorrow, one in NM, and then up to the big rodeos at Pendleton (OR), Pyallup (WA), Lewiston (ID), and Ft. Madison (IA). He's not been drawing very well at the last few rodeos (some of the bigger Tour rodeos), so please pray that that will change. He's currently 11th in the World Standings (the link below should work now) and with a few more good draws he should be at the NFR in Vegas.
The boys and I are off to AZ for a few days on the beach and my 20-year class reunion. Whoa! We're looking forward to some good ole relaxation, DRY heat, real Mexican food, and lots of family love. I'll update after the big rodeos I mentioned above.
9/7/05 - Our trips to AZ and Mexico were wonderful! Although we absolutely love Kansas, there are still things that I miss about my original "home:" Eegees, Mexican food, the desert smell after a rain (I love that!), and the beautiful mountains. It was a great time, but we're happy to be back home in Kansas.
Mark left this morning for his big run (rodeos I mentioned on 8/26). He's really having a hard time wanting to go ride these days (he's not wanting to leave home), but with only about another month and a half left of the regular rodeo season, he's committed to finishing out the year and give 110% to get there. We're keeping a positive attitude!
9/11/05 - Mark was a little frustrated after riding lastnight in Lewiston, ID. He felt that he got cheated by one of the judge's in his score. Where money is involved in qualifying for the NFR, one bad call can cost you a lot of money in the long run. They drove all night from Lewiston to ride in the short round in Pyallup, WA. He ended up 3rd in the short round and 3rd in the average there, so that helped boost his morale. He also placed in Lewiston and got a little money there. He's headed to Pendleton on Thursday (that's a big one!) and he is also entered in TX and NM at the end of the week. He calls tomorrow to get stock for those rodeos, so he'll have a definite plan after that. We're praying for God to keep his tired body healthy, for his safety while he's riding and traveling, and for God to continue to bless him with good horses and great rides!
10/4/05 - We just returned from the Pace Challenge in Omaha, NE. Mark qualified for the tour series and had high hopes of winning enough money to be able to stay home until the NFR. No such luck. His horse was one of the weaker ones in the first round and he and 3 others were eliminated from the top 8 round. Darn! We were really hoping that he could relax for the next month, but it looks like he's going to have to scratch and claw his way to the Finals. He's going to keep entering and riding the way he has been throughout the year (only getting on the good horses) and see where that takes him.
On a different note, we all visited the Omaha zoo while we were at the Finale. It was absolutely, without a doubt, THE best zoo that I've ever been to! I recommend it highly to any of y'all who might be out that way. I think Mark and I enjoyed it as much (if not more!) than the kids. We ran into Billy Etbauer and his family--it was their second year there!
We also got to spend some time with Tom Fellers of Justin Boots. Justin is one of Mark's sponsors and they have been so good to our family over the years. Make sure you buy plenty of Justin's this year!!!!
Mark is off to Florida, Georgia, Texas, NY, AZ, and several others as he finishes up the year. The season is officially over the second week in November, and we're hoping that he'll be firmly seated in the top 15 at that point!
11/7/05 - Wow! Is it ever a sprint to the finish! Mark won the rodeo he entered in Louisiana this past weekend. It was a smaller one, so he only won $750. That should make it an extremely close race between the 14th & 15th spots (it should be updated later this afternoon). He dislocated his free arm in Kansas City a couple of weeks ago, so he is gritting his teeth just to get by. We'll all be glad when this coming weekend is over -- it's the final weekend of the season. He has 2 rodeos left: Brawley, CA, and Glens Falls, NY. It all boils down to those two. Please continue to pray for him in this final week. Pray that God will heal his shoulder, that he'll draw good horses, and that he'll stay healthy and safe. Thank y'all so much for always showing so much care and concern for our family. Your prayers are so special to us!
11/21/05 - Well, he gritted out as best as he could, but his shoulder just wouldn't hold up for one more month. He rode in NY on the last weekend, but his arm dislocated again 6 seconds into the ride and they had to take him to the hospital to get it put back in. All of the ligaments in his shoulder/collar are pretty much nonexistent, so everytime he rides it will pop out again. Because of this, he decided not to go to his final rodeo. You have to be 100% going into the NFR, so even had he squeaked by and made it in, life would have been a living hell for the 10 days he was there. It's a blessing that that didn't happen.
We're headed up to Dallas next week so that Tandy Freeman can do surgery on his shoulder. He's been extremely uncomfortable and is very ready to get it done. He's needed it for several years now and we have great expectations that he'll be as good as new in the long run!
Thank y'all so much for the prayers and support throughout the year. We'll see how the surgery goes and take it day-by-day until he recovers.
12/13/05 - Well, we thought that Mark's shoulder trouble was due to his old injury, but we were wrong! He had actually torn his rotator cuff about as badly as it could get. Can you believe that he rode 4 horses with his arm that way - WOW! It required 5 1/2 hours of surgery. He will not be able to ride a saddled horse for 3 months or a bucking horse for 6. If I can keep him off of a horse for that entire time, and following doctor's orders, it will really be a miracle! Thank the good Lord that he didn't sneak into the NFR - that would have been pure hell for the 10 days that he had to ride.
The Justin Crisis Fund has been gracious enough to once again come to our rescue during Mark's lay-off time. Whenever possible, please contribute to this awesome charity. Because rodeo cowboys aren't able to get Workman's Comp., the crisis fund helps support the cowboys and their families due to injuries. It's so crucial and such a blessing for us!
Happy Holidays!
The Gomes Family